Professional Home Inspections
"Be Sure your home is
Safe"
Dirk Hoppmann
November 29, 2023
Pays attention to detail - does more than required: walks the roof (not just a drone shot), tested all power outlets,….good engineering knowledge!
Iris Austin
November 28, 2023
David is very knowledgeable on time very detailed. Highly recommend
Tyrone Davis
November 26, 2023
If you are looking for a solid, thorough and trust worthy company to do you home inspection, SureSafe Home Inspections should be your one and only stop! This is my second time hiring Dave for one of my homes and his service was exceptional. He knows what he is doing, is easy to work with, and ensures that his customer's needs are met. I'm so appreciative of Dave's insight and would highly recommend his company to everyone! Thanks again, Dave!
Raja Manoharan
November 24, 2023
David completed our 11 month builder inspection for our home. He was incredibly thorough and professional. He combed through every inch of our house and spent around 6 hours. I don't think anyone would have done it better. We highly recommend him for anytime of inspections
David is extremely professional, reliable, reasonable and add any other positive adjective you can apply. In the world of home build there are unfortunately few honest brokers. David is one of those rare people who does what he says he'll do, does it incredibly well, and charges you a fair price. I am very fortunate to have him on my side and I would have gladly paid him more than double what he charges for the product he delivers. Can't say enough good things about him. Sooner than later he won't be able to keep up with his demand because the secret is out about how good he is.
Lenore Califano
November 18, 2023
David just completed our 11 month builder inspection for our home. He was incredibly thorough and professional. He combed through every inch of our house and spent 5 hours. I don't think anyone would have done it better. We highly recommend.
ronald soncini
November 17, 2023
I thought David was very thorough. He took his time and inspected every aspect of our home. He started with the outside, checked the roof, the gutters, the windows, etc.. Then David came inside and went through the entire house and noted issues. I would strongly recommend people using David to do their home inspection, and if they're doing a pre-inspection, he's the person for the job
David's inspection gives me peace of mind. He was very thorough and explained various items throughout the inspection. Definitely recommend!
Jack Stern
November 4, 2023
We hired David before our 11 month walk through with the builder. He spent over 4 hours and was extremely thorough. I would highly recommend him.
Kelli Carter
November 3, 2023
David did an amazing job on our inspection! We hired him to inspect our new construction home one more time before our first year warranty is up with the builder. He was incredibly thorough and found several things that our original inspector missed before we moved in, including major window and roof issues that could have caused a lot of water damage down the road! We will absolutely use him again if we move and highly recommend him to anyone looking for a very thorough and knowledgeable home inspector.
With a SureSafe home inspection, you can close on your new home with the assurance that your family will be safe and secure. You'll rest easy in the knowledge that you'll be able to enjoy your new home for many years to come. We will help you know exactly what you're buying, removing any worries about hidden issues, repairs, and costs.
What is a Home Inspection?
A home inspection is a visual, non-invasive inspection of a home's structure and systems. A SureSafe professional home inspection will provide you with the overall condition of the home, drawing attention to specific areas of concern. 
As a licensed North Carolina Home Inspector, SureSafe adheres to the NC Standards of Practice.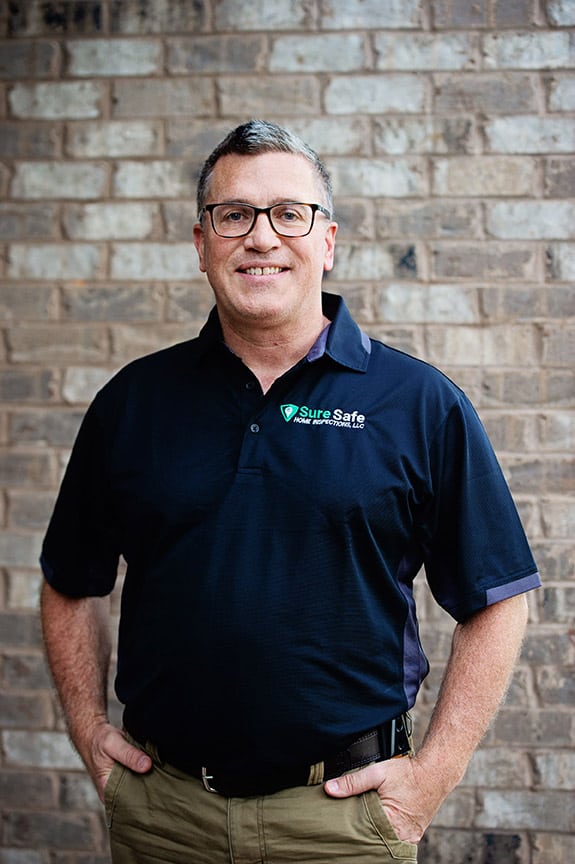 David Decker established his roots in the construction industry by engaging in the building trades as a master carpenter for over 15 years which encompassed all aspects of residential home construction. 
He decided to expand his knowledge by entering into real estate sales, which he has enjoyed for the past 17 years. David still holds an active Real Estate license in North Carolina.
After selling various multi-family properties in which he and his wife have personally owned and operated as property managers, he has made the decision to continue to add value, as a home inspector, to families that are either buying their first home or looking to sell their forever home. Owning and operating a home inspection company is exciting and fulfilling because David can help people by incorporating all of his skills that he has learned over decades of experience in many different aspects of the building industry in order to provide a quality and thorough home inspection. 
He is looking forward to helping you find a safe home for you to raise your family or to just enjoy life on your terms. David's service areas include the Charlotte Metro Area and many other towns surrounding the Lake Norman region.