Professional Home Inspections
"Be Sure your home is
Safe"
Andrew Long
January 28, 2023
Extremely thorough and knew exactly what to look for. His approach was very systematic and the integrity that he carried himself with made me feel 100% confident I was getting the best inspection possible. If you want an inspector that can 1. Find existing/potential issues 2. Communicate those issues and translate them into actionable recommendations then David is the guy. David took the time to walk me through the property and explain all of his findings. It took me less than 30 seconds to know that he knew what he was doing. His point of view and attention to detail can only come from many years of experience. His reporting style is very well documented and is a great tool for assessing priority. Each section came with recommendations and painted a picture of the types of professionals needed to pursue fixes. I would hire and will hire David again for future work if needed.
Maria Jeffares
January 16, 2023
Working with David was a pleasant experience. He is knowledgeable, professional, and very responsive. He explained in detail the issues he encountered during the inspection and recommended the fix in detail. I recommend David for your home inspection.
David at SureSafe Home Inspections did an amazing job! Professional and answered all my questions. Highly recommend!
Donna Stephenson
January 7, 2023
As far as we are concerned, and apparently many others as well, that have been fortunate enough to have chosen David of SureSafe Home Inspections for a professional home inspection, well, "the buck stops here!" He is top notch and rank in every aspect of his profession, always doing his best. Not only is he "in the know," ( he also knows all about Master Carpentry) and you won't find a nicer person with many qualities, that cares about the outcomes. Many thanks to David of SureSafe Home Inspections.
Drew Osborne
December 8, 2022
I usually just review food but man, I have to give credit where credit is due. I'm blown away. This company, David in particular runs an excellent machine here. Some of the most well detailed and thorough work I've seen in my time. Every inch, nook and cranny in the home I'm looking to purchase was looked over and tested for every issue possible he knew of. Extremely professional, amazing website layout and the information given during the report is easy to follow. He's there to answer any questions you have during his findings. I will be hands down referring him anytime someone asks.
Christopher Lachey
December 1, 2022
The most thorough inspection my home has ever had. He is dedicated to the craft and his reports are detailed and easily understood. Would recommend.
Wow is an understatement when it comes to David's spectacular service! David performed my 11-month home inspection and his attention to detail and knowledge blew me away. David was very responsive from the beginning of the process to the end. He was on time for the inspection and explained the entire process to me thoroughly. At the end of the inspection he took time to go over the report in great detail and also provided recommendations. My only regret is that I did not discover him for my previous home inspections. Now that I have worked with David, I will only use his service going forward and highly recommend him to others.
Ryan Duffy
November 13, 2022
Dave was a great home inspector. He was very thorough and was at our home for 5 hours. He answered all of our questions and was a true professional. 5/5 would recommend (and already have to neighbors).
With a SureSafe home inspection, you can close on your new home with the assurance that your family will be safe and secure. You'll rest easy in the knowledge that you'll be able to enjoy your new home for many years to come. We will help you know exactly what you're buying, removing any worries about hidden issues, repairs, and costs.
What is a Home Inspection?
A home inspection is a visual, non-invasive inspection of a home's structure and systems. A SureSafe professional home inspection will provide you with the overall condition of the home, drawing attention to specific areas of concern. 
As a licensed North Carolina Home Inspector, SureSafe adheres to the NC Standards of Practice.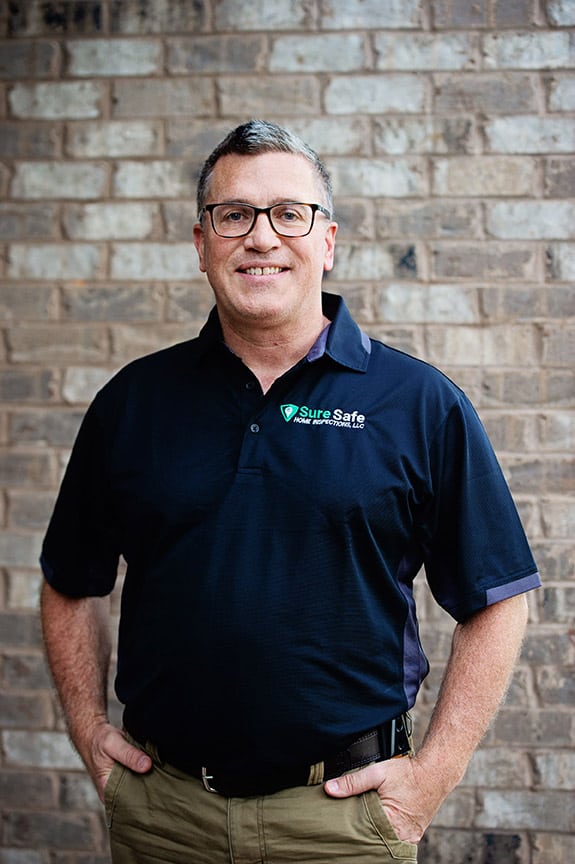 David Decker established his roots in the construction industry by engaging in the building trades as a master carpenter for over 15 years which encompassed all aspects of residential home construction. 
He decided to expand his knowledge by entering into real estate sales, which he has enjoyed for the past 17 years. David still holds an active Real Estate license in North Carolina.
After selling various multi-family properties in which he and his wife have personally owned and operated as property managers, he has made the decision to continue to add value, as a home inspector, to families that are either buying their first home or looking to sell their forever home. Owning and operating a home inspection company is exciting and fulfilling because David can help people by incorporating all of his skills that he has learned over decades of experience in many different aspects of the building industry in order to provide a quality and thorough home inspection. 
He is looking forward to helping you find a safe home for you to raise your family or to just enjoy life on your terms. David's service areas include the Charlotte Metro Area and many other towns surrounding the Lake Norman region.